This is why white label web development is a win for PR and marketing agencies
This is why white label web development is a win for PR and marketing agencies
For big PR, marketing and digital agencies working with international clients in a variety of fields, having reliable partners is a must. As many of those projects involve web development – such as building a website, eCommerce store or developing an app – cooperation with an experienced company providing development services is a great way to supplement the team, fill a skills gap, or bring new ideas to the table.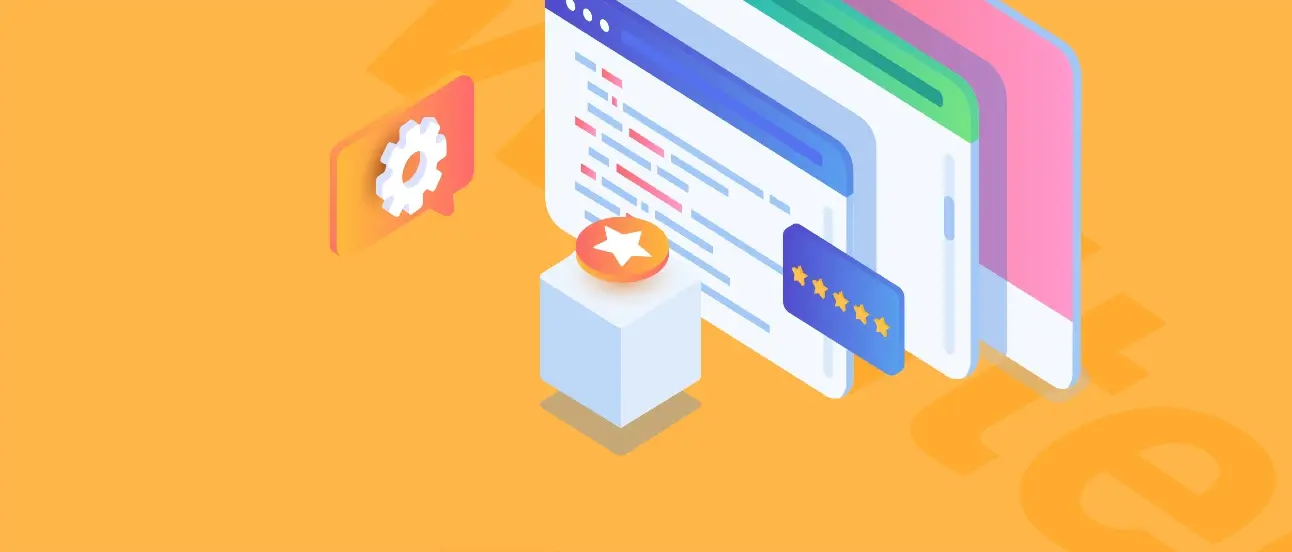 For big PR, marketing and digital agencies working with international clients in a variety of fields, having reliable partners is a must.
As many of those projects involve web development – such as building a website, eCommerce store or developing an app – cooperation with an experienced company providing development services is a great way to supplement the team, fill a skills gap, or bring new ideas to the table.
This is where the white label website development model, aka outsourcing of development teams, comes into play. In short, it means that a software house or a web development agency works on a product for another company – for example, an advertising agency – which the latter will offer to their final client as their own.
Let's assume that an ad agency is providing complex marketing services to one of their clients, including brand creation, campaigns, and a website. In this case, they can outsource the preparation of the website to a development partner while, in the eyes of the client, it remains a part of their comprehensive services.
"White label" means that the company ordering the product can put their own name on it and later present it in their own portfolio.
Let's try to answer some questions about the outsourcing of development teams, namely:
When is it advisable to choose white label design services?

What are the benefits of white label partnerships?

Why is Naturaily your white label agency to check? (we strongly believe we are!)
When should you opt for white label web development?
There are some situations when a white label team may come in exceptionally handy:
You don't have an in-house development team

Your development team is too small or miss important competences

It's not cost-effective to recruit new members of the development team
The first and most obvious one is when an agency representing the final client doesn't have their own development team at all and creating one would be too time-consuming and costly.
But even if it has a team on board, it may be too small for a certain project, it may be missing some (specific) competences or you may simply be looking for new fresh ideas.
In some cases, it's just not effective to recruit new team members, because you may need their specific skill sets only for a single project. Simply imagine the costs of the whole recruitment process. It's not a good idea business-wise, is it?
If you operate in one of the major business cities of the world, hiring local developers may be difficult and costly. It is then more reasonable to hire a web development agency from another country; in the best-case scenario from the same or similar cultural circle to facilitate the communication at each level.
It is also possible that the digital agency is already taking advantage of external developers' help, but is not happy with the cooperation or needs a more comprehensive approach that only an experienced and skillful website development company can provide.
White label web development may concern all of a company's projects, only a few of them or even just a small side project to start with – it all depends on your needs.
Whatever the reason, the benefits of white label development are numerous. Let's take a look at them.
The benefits of white label web development
The reasons for starting cooperation with a white label agency cover three categories: technological, organizational, and business ones, but some of them overlap.
Technological benefits refer to access regarding the latest and most effective tech stacks and professional expertise, especially when it comes to rare or sophisticated technology

Operational benefits refer to the value that white label web development brings to your company in terms of effectiveness and time management

Business benefits result from both technological and operational ones. They are defined by the capacity of the business to grow and expand, fulfill the clients' expectations, and make profit
After reading the next few paragraphs, you will know exactly what to expect from a white label partnership.
You make your agency offer richer because you get access to high class expertise and tech stacks
Companies specializing in website development services can be seen as competence hubs because their expertise add up and create lasting and ever-growing value. With each project, the competences – both newly acquired and refined – stay within the company.
Most reliable web development agencies have access to the newest tech stacks and platforms because that's what their clients and their work specificity demands. This way you, as a partner, can be sure that your software is always produced in the latest and most stable version.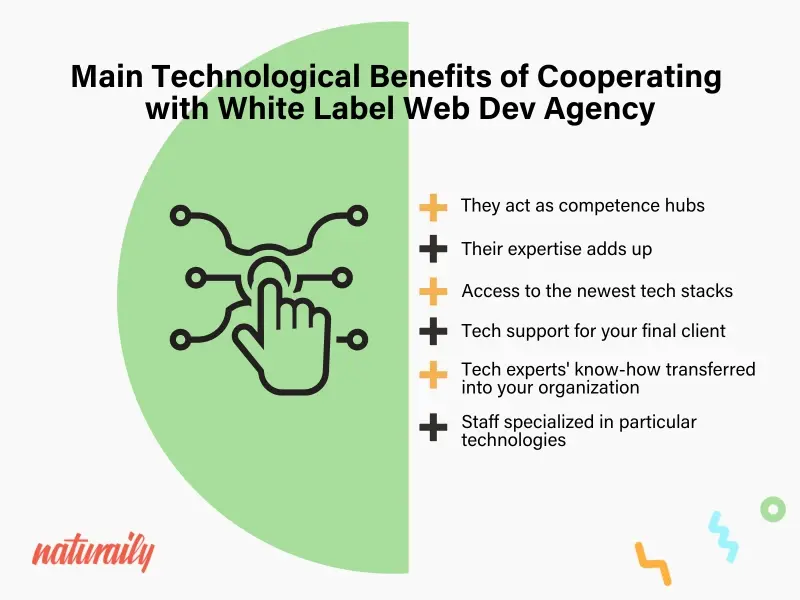 Your development team gains know-how by cooperating with a web dev agency
It works both ways – not only does your project enrich the software house's expertise, but your in-house experts can also learn from those projects, gaining new and unique competences.
You also have access to tech experts that can support you with their knowledge if you have to explain something to your final client – a good web design partner has got you fully covered. They can even act as an "external" CTO for your company.
You can provide your clients with what the best technology has to offer
Thanks to the software house's expertise, you can offer your final clients only the best solutions, which will distinguish your digital agency from the competition offering marketing services.
If you provide website projects for your clients, they may expect, for example, excellent performance and SEO, as well as an eye-catching front end that sells. You can achieve this through the right choice of technology and knowledge on how to use it in a proper way.
Looking for staff specialized in a particular technology? You'll find them in agencies
The tech world is changing at a very high pace and new technologies emerge, such as Jamstack or headless approaches, to give an example. There are not so many developers on the market who can handle those novelties, and the best chance to find them is at a company offering white label services.
A good white label web development company has partnerships with tech platforms
To create software, you have to utilize various platforms that facilitate or enable the development process. Those tools are of course available to anyone, but a software house usually has exceptionally good terms with them.
The white label web design and development agency knows these platforms and their pitfalls, and usually directly cooperates with their experts and gets full technical support. It is also aware of any changes that take place on the platform and undertakes regular training.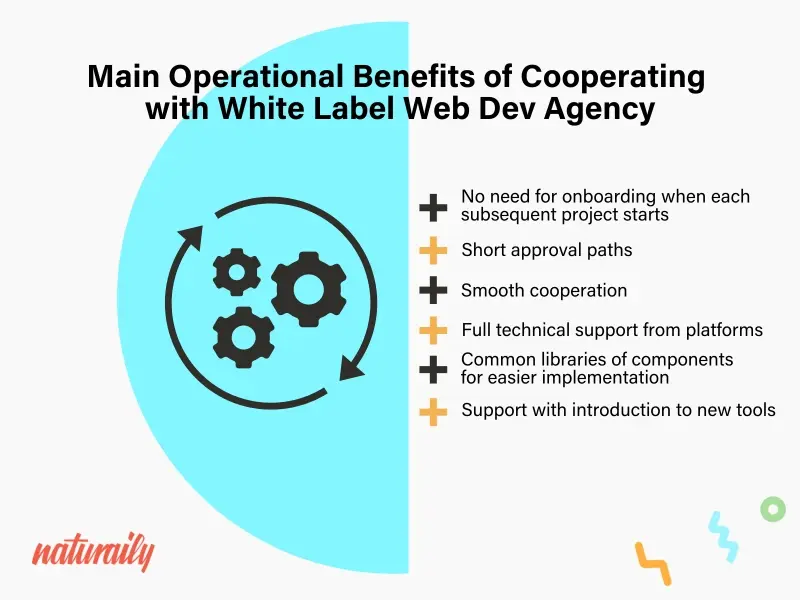 The software house usually also keeps component libraries for different platforms – this repository is being expanded during work on different projects and the components can usually be easily modified and re-used (while still keeping the front end unique each time).
When a serious problem (the so-called edge case) occurs, the website development company's team can solve it directly with the platform's team. These benefits facilitate the implementation of any project.
Last but not least, the web development agency can get better price offers for its clients.
A steady partner means smooth cooperation and effectiveness
If your PR or marketing agency has several clients, and the services you offer include web development, a single, steady technological partner is even a better solution.
This way, your team and the software house's team can know each other better and cooperate smoother, creating a set of best practices that accelerate project work.
A white label team usually has the experience needed to cooperate with extended client teams, including such functions as UX or PM. You also don't have to onboard a new developers' team and project manager each time you start a new project.
Or, if you need to provide a couple of websites for one client, it's more beneficial business- and project management-wise.
One vendor to rule them all? Absolutely yes. Remember: such steady cooperation has a good impact on the atmosphere in your team.
Moreover, hiring one development team for multiple projects means saving costs, time and effort. You don't have to:
Look for a new vendor each time

Verify their competences

Look for references

Close the contract

Introduce them to the company and the project

Set up a workflow and so on
White label website design services mean better project management (if done right, of course)
First, with a white label partner, your project can take off and be finished faster (especially when the deadline seems impossible to be met, which is often the case for digital marketing agencies).
One of the reasons is that the flow of web or software creation is optimized, and every common project makes it even better (this, of course, translates directly to lower costs). Faster completion of the project also means a shorter time to market, which is of crucial importance for your final client.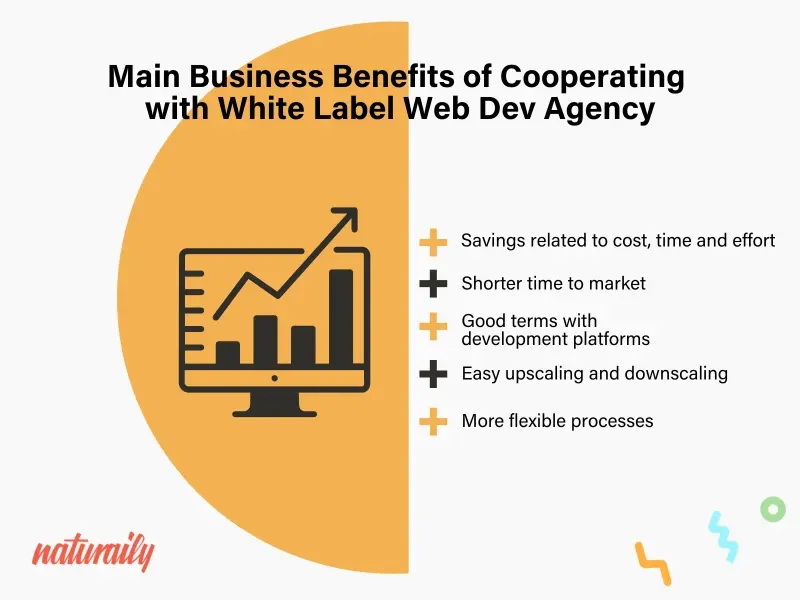 Other important reasons? Companies that offer white label website development services can usually set up processes more flexible than big IT corporations. You can always make some amendments according to both yours and the final client's actual needs.
The unnecessary or lengthy procedures don't block your way to success. The approval paths are also less numerous and simpler. Having a reliable tech partner means you will be ready for any changes that may occur along the way.
In a corporation, more people are involved in the project, which may also slow down its execution, especially when there are some dependencies between the teams, and developers get lost in a variety of tasks. This translates to higher project costs, and lower ROI.
Last but not least, it's easier to upscale and downscale your projects – the number of involved developers from a white label website design company may vary according to actual needs.
Benefits of white label website development – the wrap-up
Outsourcing projects to a white label partner may result in:
Adjusting the team's size and competence scope to the actual needs of your projects

Avoiding the cost, effort and risk associated with hiring in-house team members

Gaining access to broad and updated tech knowledge

Running the project in a smooth and optimally designed way

Having a partner that will translate your needs to tech language
Now it's time to choose the right white label agency. Let us tell you a bit more about ours.
Why should you choose Naturaily as a white label partner?
We're an eCommerce and web development agency that's been uninterruptedly on the market for 10 years.
Our attitude
When cooperating with our clients, we choose proactive cooperation. This means we recommend them with modern tech stacks (like Jamstack instead of monolithic solutions) and solutions that may not be an obvious choice, but all in all the most effective one.
This means you can upgrade your agency's offer with the newest web development tech stacks that is gaining significant acceleration in terms of popularity among companies and developers, with Jamstack being one of them.
We cooperate tightly on a daily basis – we discuss the details with the client, we offer them the right solutions on the go, we have our ears open to their needs and keep a good atmosphere in the project (we know it's important!).
Our white label services
We focus mainly on custom web development, providing unique solutions for all kinds of clients, including eCommerce stores, agencies, B2B companies, web apps and others.
We specialize in the development of Jamstack websites and apps.
It is a modern approach to building websites and apps that allows for total creative freedom combined with scalability, flexibility and top-notch performance (Core Web Vitals are so important these days). It is possible because the front end is decoupled from the back end, and you can choose almost any technology or tool to achieve the results you want.
These technologies, called microservices, can communicate via APIs, so you can develop them independently, and gain more cross-functional workflow. Forget about heavy and unreliable plugins!
Jamstack websites are in fact dynamically-generated static sites. This means they let you create a great user experience and appealing visual layer with ultra-fast performance, and they're easier to modify.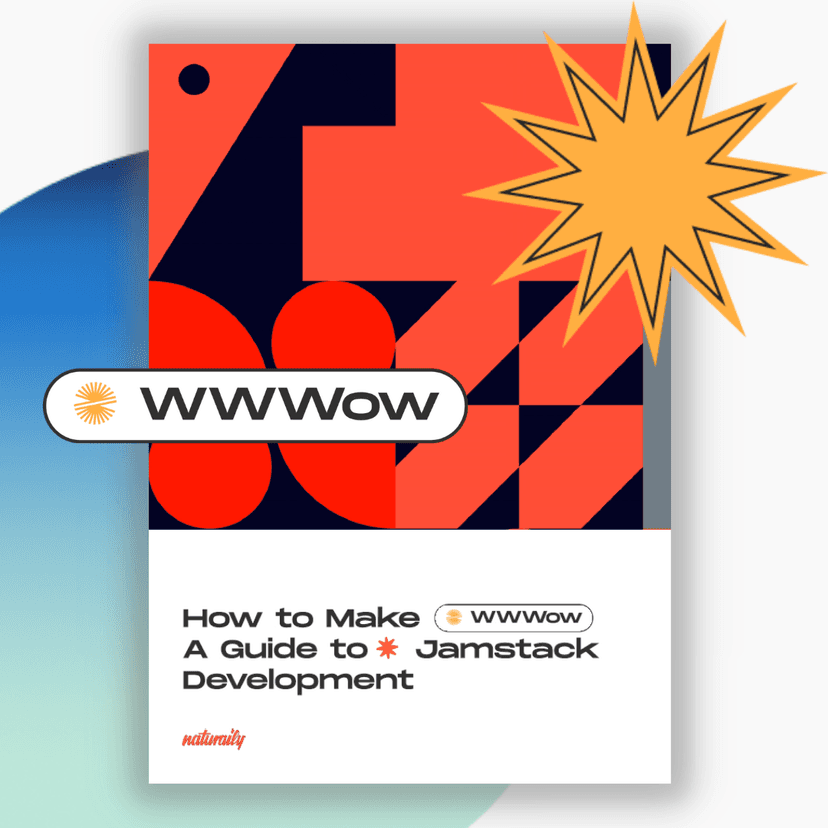 Need a better website?
Jamstack development described

Business reasons to switch

How to get started

All you need to know

80 pages for free!
DOWNLOAD OUR INTRODUCTION
How we operate as a white label agency
Our work includes mainly projects in two models – team augmentation, when we add our specialists to your in-house team, and the outsourcing of development teams, where the whole project is being carried out by our white label website design team.
We don't do body leasing and nearshoring, which means your projects always remain always under our meticulous control.
We work both with greenfield and brownfield projects.
Our references
Our clients have appreciated our effort and dedication, leaving us recommendations on Clutch. Let us quote just a few of them.
We are proactive:
"From the very first contact, Naturaily caught our attention with their outstanding communication skills, degree of business awareness, experience in developing similar solutions and presented approach to project management".
We understand your business needs:
Naturaily's team stood out for its particularly high level of understanding of our business needs. As a result, we feel that on the other side we have not only good providers of technological solutions, but above all a partner who understands our product and wants to develop it together with us.
Read the whole review here.
We know how to communicate:
What we value the most was good communication. We were kept informed about the progress of work and we got answers to all of our questions. The team was committed, helpful, easy to collaborate, and most importantly professional and skilled.
Read the whole review here.
We are responsive:
Naturaily's responsiveness has been great. They're good at keeping in touch and not leaving us in the dark about where things stand. I don't have to chase them very much, which is great.
Read the whole review here.
We are quick and efficient:
The pace of development significantly accelerated from the moment Naturaily joined the project.
Read the whole review here.
Your developers will learn from us:
Their developers have helped ours to learn different styles of development, and they've accelerated the rate at which we can ship our product.
Read the whole review here.
We know how to build great Jamstack sites:
The new website is everything we wanted: light and quick to load, but also visually stunning and technologically future proof. It also has all the advantages of being implemented with the Jamstack approach, such as good performance, scalability, great user experience, high security, maintenance and flexibility.
Read the whole review here.
Give us a try!
Want to be our next happy client? Let's talk about the needs of your company and work out a solution that will match them!
Let's talk about Jamstack!
Contact us and we'll warmly introduce you to the vast world of Jamstack web development!
GET AN ESTIMATE