Shopify vs Shopify Plus: Understanding the Top Critical Differences
Shopify, the most popular e-commerce platform, is a great choice for those who opt for selling products online. With its unlimited theme customization options, multiple marketing and sales features, as well as easy setup, and simple pricing, it's the best solution for store owners worldwide. But does Shopify have an offer also for global businesses with skyrocketing sales? Yes! It's Shopify Plus.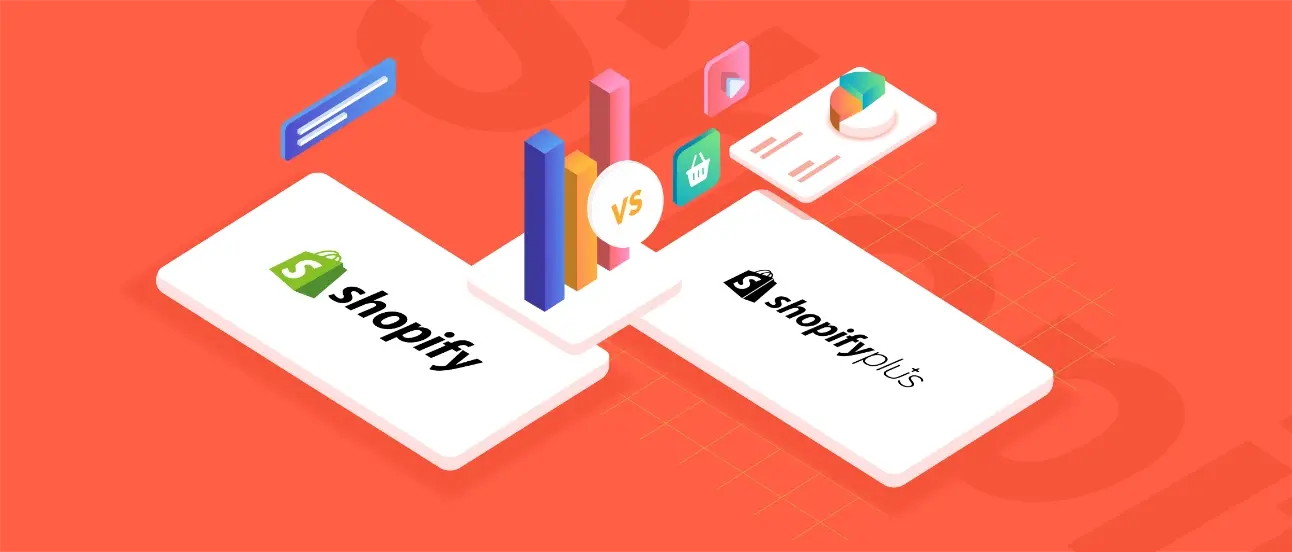 Understanding Shopify and Shopify Plus
Shopify is an e-commerce platform that's used by more than 4 million merchants worldwide. With such a big network of customers, the company has established a few plans to cater to the various needs.
For small and medium businesses, the company provides three standard plans: Shopify Basic, Shopify, and Shopify Advanced. 
But the possibilities of Shopify don't end with three standard plans. For big merchants who sell thousands of products daily and are looking for a truly tailor-made, advanced, and personalized solution, there's more: Shopify Plus, the most advanced Shopify bundle.
It gives more customization options, numerous additional automation tools, greater speed, and of course it can handle much more traffic than the standard solution. But are those tools worth the price? Let's find out.
In this article, we will touch on the following subjects:
The main differences between Shopify vs Shopify Plus

Pricing and costs of the solution

Support and exclusive programs

Themes and design flexibility

Features enabling better management

Key improvements of the sales and analytic processes

Who and when should opt for Shopify Plus
Let's get into the subject!
Shopify Plus vs Shopify – How Big is the Gap?
Both Shopify and Shopify Plus offer similar fundamental features and functionalities in terms of the dashboard and basic e-commerce capabilities. However, the benefits of Shopify Plus lie in the increased level of control it provides, along with additional support options, as well as access to the code of your store and other advanced customization possibilities.
There are some main differences between Shopify and Shopify Plus. With the latter, you get, among others:
A dedicated account manager

The Merchant Success Program

More theme customization options

Unlimited staff accounts

Customized checkout

More API integrations

Dedicated apps

Wholesale channels

Advanced analytics

The Shopify Plus Academy

And many more
Let's dive into fine details and take a look at the most important features of Shopify Plus compared to the classic Shopify plan.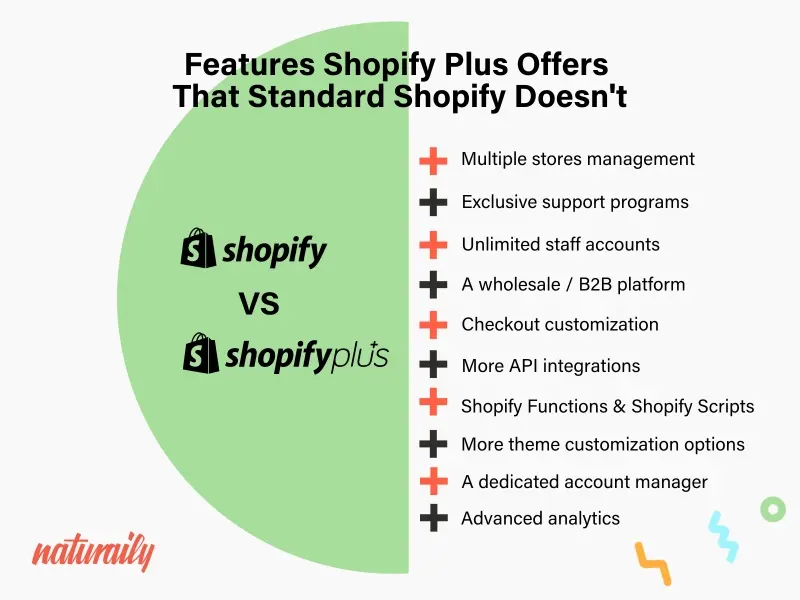 Pricing and Costs – What is The Difference Between Shopify and Shopify Plus?
Let's start with what's important for many merchants considering switching to a new level – pricing. With Shopify, you get three simple plans: 
Shopify Basic for 32 dollars a month

Shopify for 92 dollars a month

Advanced for 399 dollars a month
You also have a Starter plan (formerly Shopify Lite) for just 5 dollars a month, but its features are quite limited.
With Shopify Plus, your price is up for negotiation, and you have to contact Shopify directly to get an estimate. The starting point is 2000 dollars monthly (most merchants fall into that category), and the exact price is usually based on sales volume and other factors. Once you achieve 800,000 dollars a month in sales, the charging system is changed into a Shopify revenue model, when you pay 0.25% of your sales worth to Shopify (but no more than 40,000 dollars).
Also, note that if you don't use Shopify native payment gateway – Shopify Payments – you are going to be charged from 0.15% to 0.30% per credit card transaction (it is still much less than in the case of regular Shopify, where the fee can be up to 2% on lower plans).
Of course, this is just a cost of using the Shopify solution – don't forget about shop development, third-party services, or Shopify apps that also come with significant investment.
Support and Exclusive Programs – Shopify Basic vs Shopify Plus
Basic Shopify offers users many different standard contact channels, like email, phone, or chat. You can reach out to them with your questions or issues at any time of day or night. Also, Shopify provides a comprehensive online Help Center. This contains a wealth of articles, guides, and tutorials on a wide range of topics, from setting up your store and adding products, to managing payments and shipping.
A Shopify Community Forum is also an interesting space where users can ask questions, share experiences, and provide advice to each other. Shopify's support staff also participate in the forums, providing official responses to queries.
However, personalized and individualized support from experts isn't included in the plan. On the other hand, Shopify Plus offers dedicated support and exclusive programs available to their merchants. Take a look below!
Access to a Dedicated Account Manager
Shopify Plus guarantees the dedicated, one-on-one support of account managers who are available to assist you with any inquiries or issues regarding your store. They are ready to provide guidance on various tasks such as configuring personalized shipping rates and integrating with third-party software solutions.
Shopify Plus also features the Merchant Success Program, which has been designed to help store owners make the most of the shop's features.
First, with the assistance of a Shopify Plus consultant, you can determine whether Shopify's services align with your business. This involves:
Outlining specific requirements

Evaluating business needs

Exploring the features of the platform

And identifying potential chances for growth, expansion, and operational efficiency
The second step is cooperation with the solutions engineer, who will take care of the seamless integration of the tools and technical components you use with the platform. It doesn't mean, though, creating a specific solution like a theme or custom design, projecting the personalized user journey, or setting up the hosting. For this, you'll need a web development and e-commerce agency, like Naturaily for example.
Then there's the launch team that – using their vast knowledge – will advise you on customer use cases, international storefronts, custom integrations, and data migration. They will also provide you with strategies on how to successfully launch the store.
Moreover, there is a Shopify Partners Program, featuring experts who will help you to grow your business over the challenges and market chances.
As you can see, at Shopify Plus you are always taken care of in all aspects of your merchant journey.
Discovering The Advanced Resources and Sales Tools
As a Shopify Plus user, you get access to many additional tools and resources that classic Shopify simply can't deliver.
Shopify Audiences
For example, Shopify Audiences allows you to reach Facebook and Instagram users, who are likely to buy your products (this is however available for users based in the US or Canada).
Shopify Plus Academy
You also get access to Shopify Plus Academy, with educational materials concerning the expansion of your business. This enables you to also access:
In-depth Learning: The academy provides a comprehensive collection of courses, tutorials, and resources to deepen your understanding of Shopify Plus and e-commerce best practices. This includes everything from setting up your store and optimizing for SEO, to mastering more complex features like automation and international expansion.

Practical Insights: The content in Shopify Plus Academy is developed by e-commerce experts and includes practical insights and real-life examples. This makes the knowledge easy to apply to your own business.

Community Access: The Shopify Plus Academy also offers access to a community of other Shopify Plus users. This is a great place to share experiences, learn from others, and find inspiration for your own store.
The knowledge gained from Shopify Plus Academy can significantly improve your decision-making process. It can help you make data-informed decisions, refine your marketing strategy, improve customer experiences, and ultimately drive more sales.
Shopify Functions
An interesting feature is Shopify Functions. It's a serverless platform that allows you to customize the back end of Shopify. For example, you can establish custom discounts, shipping, checkout validation rules, product bundles, payments, and many more. This way not only you are able to personalize and expand your offer, but also save time and effort. Main Shopify Functions benefits include:
Customization: Shopify Functions provides the freedom to customize Shopify's platform to better suit your unique business needs. This means developers can build tailored solutions that go beyond the capabilities of standard Shopify themes, apps, or extensions.

Scalability: As a serverless platform, Shopify Functions auto-scales with your business. You don't have to worry about managing or optimizing servers to handle increased load during peak times.

Integration: It offers opportunities for better integration with third-party APIs. For instance, you can create custom functions that interact with your CRM, ERP, or any other system, improving the overall efficiency and automation of your operations.

Simplified Back-End Operations: Shopify Functions handles all the back-end operations, allowing developers to focus on writing code that adds value to the business. This reduces the complexity and costs of back-end management.

Performance: By running functions directly within Shopify's infrastructure, you can expect lower latency, providing a faster, smoother user experience.

Improved Checkout Experience: With Shopify Functions, you can customize the checkout experience even further, tailoring it to your business needs. This can lead to improved conversion rates and customer satisfaction.
Shopify Functions can perfectly complement the headless commerce approach to Shopify Plus development. In a headless commerce setup, the front end (the "head") of a website - the part users interact with - is decoupled from the back end where all the data management and business logic reside.
Combined with headless, Shopify Functions can provide the back-end logic that supports the custom front end. It can be used to create serverless functions that perform specific tasks when called from the front end. This could be anything from fetching product data in a specific format to applying custom pricing rules to managing inventory in real-time.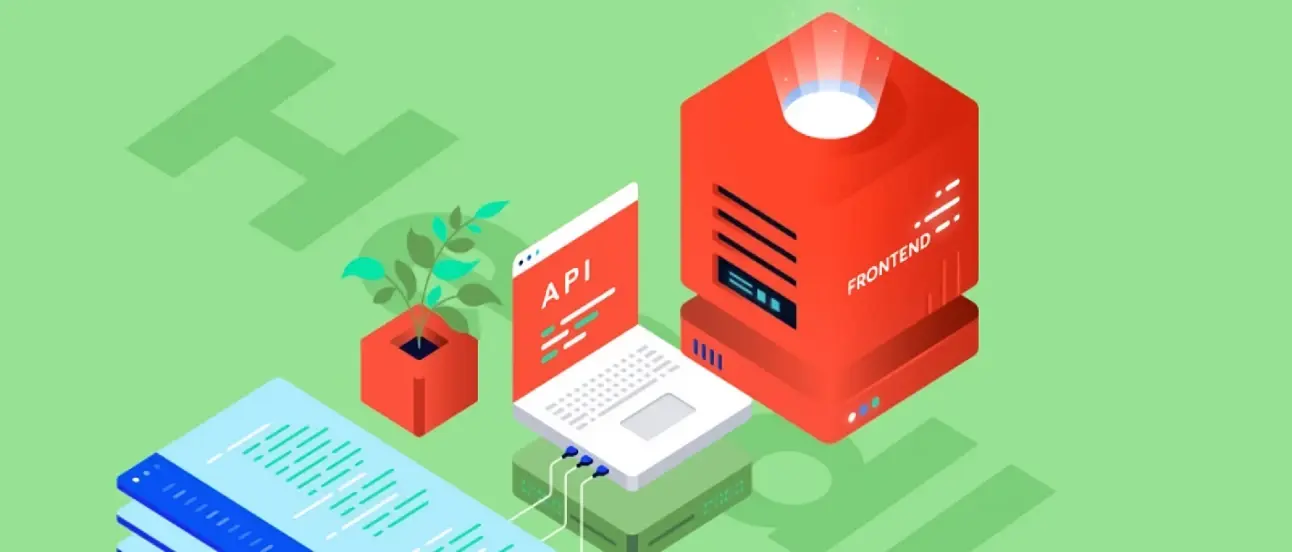 Comparing Themes & Design Flexibility: Shopify Plus vs Shopify
Shopify by default offers a whole bunch of attractive customizable themes for your store, but in Shopify Plus they can be additionally customized using the Shopify Liquid – an open-source template language.
Let's focus on classic Shopify for a while.
Theme Variety: Shopify offers a selection of over 70 professionally designed themes, with around ten of them being free. These themes cater to a broad range of industries and are designed to be responsive, meaning they look great on any device.

Customization: Shopify's theme editor allows you to customize various elements of your chosen theme, such as colors, typography, and layout, without needing any coding skills. However, if you have HTML, CSS, or Liquid coding knowledge, you can make even more significant changes.

Theme Store and Third-party Themes: Shopify's Theme Store has a variety of themes, both free and premium, created by world-renowned designers. Also, you're able to use third-party themes, which you can purchase from other marketplaces.
Because the themes are more flexible, they are not only more pleasing to the eye but also have better Shopify UX, which is crucial for the business success of Shopify merchants.
With Shopify Plus:
You get all the features offered by Shopify

You are allowed to add up to 100 themes to the account, maintain seasonal versions of your theme, or test any changes in a copy of the chosen theme

You are taken care of by experienced Shopify staff, so your launch team can help you make a custom edit of any theme within the plan's price, which will save you a lot of money and effort.

You get access to Shopify's Script Editor which allows you to create personalized experiences in the shopping cart and at checkout. We'll elaborate on that further in the article.
This is particularly useful for large businesses that require more unique and complex designs.
Exploring the Liquid Theme Language
Liquid is a powerful, open-source templating language created by Shopify and used in the Shopify theme ecosystem for both Shopify and Shopify Plus plans. It allows developers to build dynamic, flexible themes for e-commerce stores, significantly enhancing the design possibilities. By using a combination of tags, objects, and filters, Liquid allows developers to load dynamic content onto storefronts. 
Whether you're customizing product details, managing various page elements, or controlling the structure of your store's theme, Liquid offers a high degree of control and customization. Liquid's capabilities extend beyond mere page layout and design. It allows for intricate logic operations and control flow techniques.
With Liquid, developers can:
Manipulate the visibility of certain elements based on specific conditions

Tailor content to the customer's geographic location or shopping habits

Create bespoke navigation structures
This flexibility allows businesses to offer unique and differentiated e-commerce experiences, setting them apart in a competitive online marketplace.
Shopify Plus users might have additional opportunities to leverage Liquid due to the platform's more extensive feature set. For instance, Shopify Plus users can fully customize their checkout process, which could involve using Liquid to create a unique and branded checkout experience.
You can also choose another path and go for headless Shopify, both in Shopify and Shopify Plus. This unique approach allows the decoupling of the back end and front end, which translates into the possibility of creating a custom visual layer using JavaScript frameworks such as Next.js or Vue.js instead of Liquid. In other words, you'll have any design you want, with great performance assured.
Shopify vs Shopify Plus – Features for Better Management
Let's look at the features that really make a difference in the context of the daily management of the stores, especially in a big company with numerous roles and workflows.
The Shopify Organization Admin Tool
One of the features that are enabled in Shopify Plus is multiple-store management. It means you can handle all stores within a single subscription. So, instead of standard Shopify admin, you get access to organization admin, where you can manage all your shops altogether.
In the Shopify organization admin, you can also manage users, namely add, suspend, and remove them in bulk, control permissions, or create and assign roles.
Finally, you have the overview of analytics data in just one place, such as total sales and orders, thanks to which you can thoroughly assess your organization's condition and make informed data-driven decisions.
Addition of Unlimited Staff Accounts and Permissions
Basic Shopify plans have their limits concerning the number of staff accounts, while in the case of Shopify Plus, this number is unlimited. The permission settings are also more detailed than in the standard versions – you can for example create separate permissions for exporting specific reports or managing specific apps.
In the admin, you can also control the actions of chosen team members. This way your whole store management team – however big it is – can collaborate without unnecessary limitations, and in a safer and more structured way.
Multi-Store Unified Dashboard
As we've already mentioned, Shopify Plus allows users to run multiple stores. Managing them is easy thanks to a unified dashboard containing all the necessary features and functions.
You can easily view all your shops and your business performance at a glance. With this dashboard, you gain the ability to monitor and run your business operations, collaborate, and communicate within your team, as well as use automation features to streamline your workflows.
Utilizing SAML and SCIM for Advanced User Control
SAML and SCIM are protocols utilized in the area of identity and access management, but their purposes differ.
SAML primarily focuses on authentication and authorization (it allows users to log into many apps with a single set of credentials), while SCIM serves as a protocol specifically designed for automating user provisioning and deprovisioning processes across various systems and domains (it allows a company to manage user access rights to applications).
Both those protocols provide you with a higher level of security but also make it easier for users to log into the systems. They are accessible via organization admin, which is available only in Shopify Plus.
Key Improvements for E-commerce Stores – Shopify vs Shopify Plus
Successful e-commerce is based on a shopping experience that enables users to smoothly go through the whole sales process. In this area, basic Shopify has many useful sales features, such as:
Unlimited products

Manual order creation

Abandoned cart recovery

Multi-channel selling

Adjustable shipping rates

Discount codes

Social media integration
But when you want to truly personalize and internationalize the shopping experience, you should take a look at what Shopify Plus has to offer.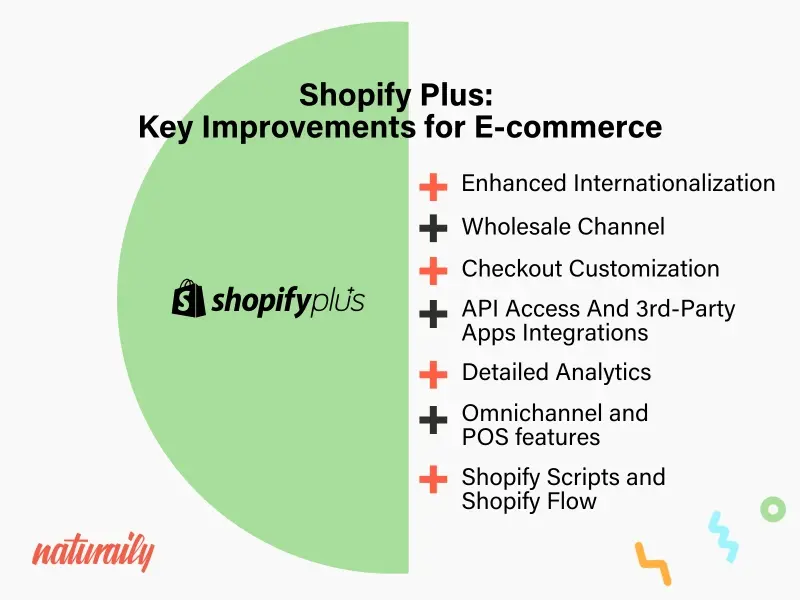 Enhanced Internationalization – Tax, Multi-Currency, and Omnichannel
With Shopify Plus, you don't have to worry about selling worldwide – the system will automatically detect the customer's location based on their IP number and set up adequate currency. Your customers won't need to choose it manually unless they want to change it. The same concerns the language – within one store it can change according to a customer's location or residence.
Also counting taxes is facilitated – for example with tax software Avalara AvaTax, available only for Shopify Plus users, the calculation of tax is fully automated according to the jurisdiction appropriate for any customer, and you also get detailed reporting of counted taxes. You can use this solution in place of standard Shopify's tax engine.
Your customers' various needs are also taken care of – Shopify Plus offers a seamless omnichannel experience across multiple channels, including physical offline stores with POS, online stores, marketplaces, social media, mobile apps, and catalogs.
Wholesale Channel for Online Store Solutions
The Shopify Plus wholesale channel allows you to create a separate storefront as an extension of the basic store. You can still manage all your orders in a single Shopify admin for both channels and sell the same products to wholesale customers as to your regular Shopify users (but in bulk prices and with other discounts).
However, as Shopify informs us, this function is going to be removed at the end of April 2024 and replaced with a special B2B solution.
Greater Checkout Customization for Shopify Store
Unsatisfactory Shopify checkout experience can be sometimes a dealbreaker for customers who were just about to buy a product. No wonder that merchants want to make this experience optimally seamless and tailored to the client, and Shopify Plus can help.
It is possible to modify the code, so the checkout page looks and feels exactly like you planned. You can create custom properties, such as shipping methods, customer fields, payment options, or discounts – without the need for relying on third-party apps.
However, if you want to enrich your store with a third party, you're also granted such a possibility.
API Access And Third-Party Apps Integrations
What are APIs? Simply put, they are interfaces enabling integration with third-party apps and other services.
With Shopify Plus, you gain access to more API integrations than with standard Shopify. The examples are:
Shopify Plus offers the capability to integrate with custom apps or develop your own private apps using the Shopify API. These custom or private apps can be utilized to expand the functionality of your store or automate various tasks.
In addition, in the headless approach we mentioned before, we can connect any third-party tools via API to further customize the e-commerce store, and it concerns also basic Shopify plans.
Detailed Reporting and Analytics
Through Shopify Plus, you gain access to a comprehensive analytics dashboard that provides a wide range of statistics, including:
Customer data

Sales data

Top-performing products

Landing pages

Referrers

Customer retention rates
This tool enables you to create professional custom reports and stay updated with real-time information about your store. It's especially vital for a business that operates in many markets and has multiple stores because even the slightest trends in data are visible very quickly and can lead to an adequate reaction.
But there's more. If you need even more detailed analytics, Shopify Plus enables you to access ultimately advanced data about your store and customers by cooperating with analytics companies like Klaviyo, Segment, KISSmetrics, Google Analytics, or Heap.
Point-Of-Sale (POS) Features
Your POS, aka point-of-sale, lets you directly manage your sales process, both for sales online and offline. In Shopify Plus, its functions are very advanced, including:
Local pickup and delivery – for click-and-collect or shipping products

Inventory management – manage inventory across locations, channels, and warehouses and add unlimited products to the catalog

Permissions for retail staff – decide who is responsible for given tasks

Returns and exchanges – your staff can assist customers in exchanging or returning items

Customer profiles and reporting – get to know everything about your sales and customers

Custom-printed receipts – according to your specific needs

Fully customizable checkout – for better customer experience
Thanks to those features, the sales process runs smoothly at every stage, especially when you operate worldwide or have multiple stores and thousands of products.
Shopify Scripts, Shopify Flow, and Other Advanced and Exclusive Apps
In Shopify Plus, there are also available some exclusive advanced apps that enhance the store's operation.
Shopify Flow makes it possible to create custom workflows and automate tasks, which is especially important when you are working on a large scale and have a big team with diversified roles.
Shopify Scripts, on the other hand, allows to create personalized customer experience concerning the cart and checkout.
Shopify Plus runs a Certified App Program that connects their merchants with the best app developers, who provide very high-quality apps meeting the platform's standards for this kind of subscription. Thanks to it, Shopify Plus merchants have access to some of the most advanced functionality in the market.
No above features are available within standard Shopify plans.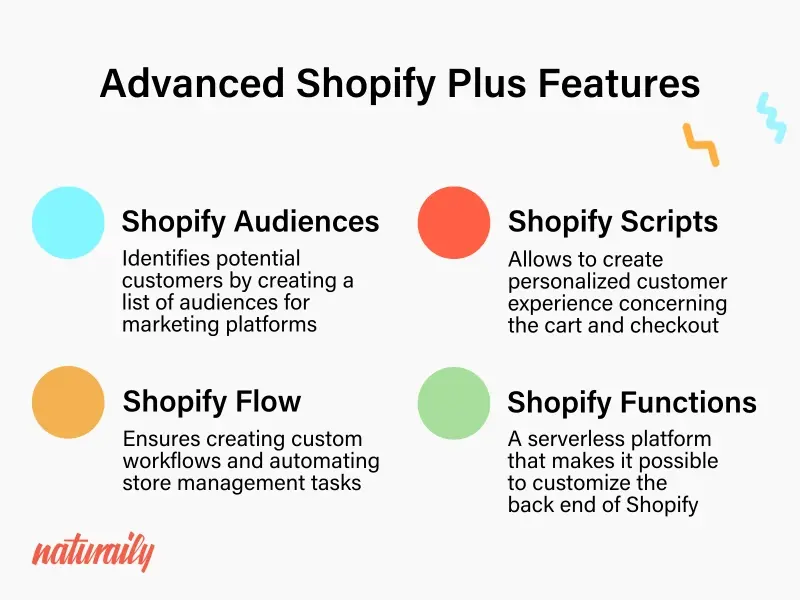 Is Shopify Plus Worth the Additional Cost to Improve the Business?
Shopify Plus offers a bunch of additional functions and advanced expert support for the merchants that will significantly boost your capabilities of reaching new customers or streamlining managing the stores. The price is, however, significantly higher than even the most expensive of the standard plans. At the end of the day, it all comes to business profit and it's vital then that you really use these extra features and benefit from them.
If you want more creative freedom with your basic Shopify plan, you can opt for headless Shopify which will allow you to customize your store to your liking. This solution provides also quick performance, which is vital for a growing business.
Of course, you can also integrate headless with Shopify Plus – in this case, you'd get the most advanced e-commerce solution in the market. Which can be a tease, can't it?
Summary – Should You Upgrade From Basic Shopify to Advanced Shopify Plus?
To sum up, you should consider a Shopify upgrade to Plus when:
You have a very large (and growing) customer base

You have significant sales volume and a high monthly profit

You operate globally, and your customers are scattered worldwide

You want to run multiple shops and/or operate different points of sales

You want to have full control over the sales process from A to Z

You have numerous inventory locations

You have a sufficient and engaged team who will manage the store(s)

You want to offer customer-based prices and shipping rates

You want to go omnichannel
At Naturaily we have been offering Shopify development services for many years now – also in the headless approach. If you are looking for a seasoned web development company that will take your business to the next level, just contact us.
Let's talk about e-commerce!
Contact us and we'll warmly introduce you to the vast world of headless e-commerce!
GET AN ESTIMATE