BigCommerce vs Shopify – Similarities and Differences [eCommerce Comparison]
We have recently compared Shopify and Magento – two competitive ecommerce platforms popular among store owners. Today we will follow this pattern but in a slightly different way, this time comparing Shopify with BigCommerce. Where does the difference stem from?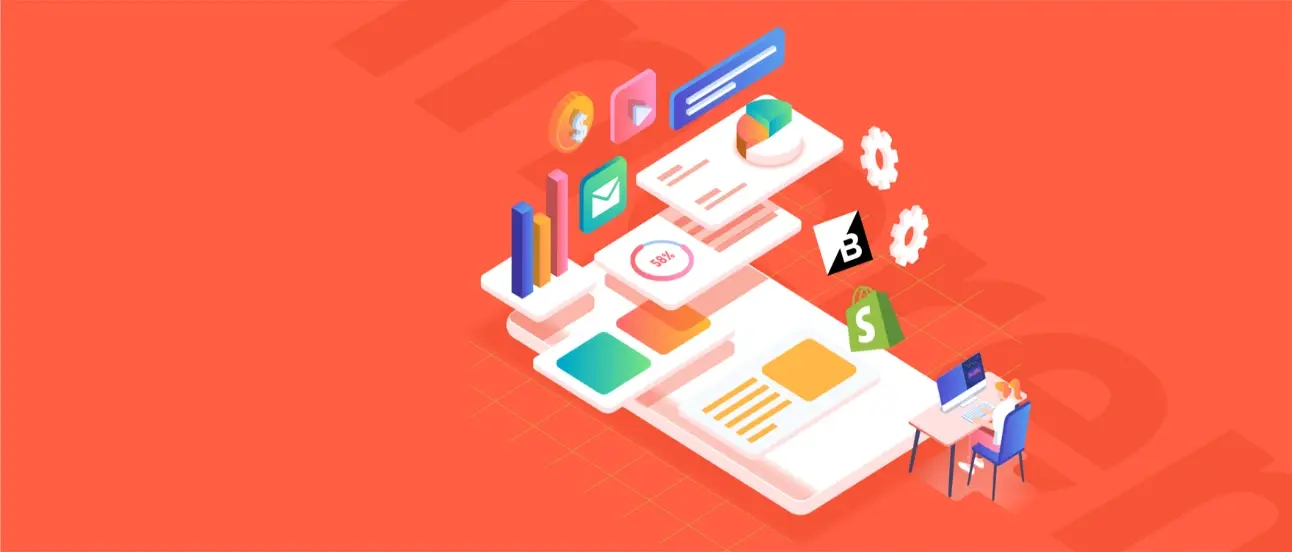 We have recently compared Shopify and Magento – two competitive ecommerce platforms popular among store owners. Today we will follow this pattern but in a slightly different way, this time comparing Shopify with BigCommerce. Where does the difference stem from?
Well, BigCommerce and Shopify are similar, to a great extent, at least when it comes to their core philosophy. Both are one-stop-shop hosted solutions designed mainly for non-tech merchants (but still with good options for big enterprises).
Many of their functions are already bundled in a package and adding extra tools doesn't require extensive technical knowledge, except for the advanced ones.
You can set up a shop (from anywhere in the world because it's all online), pick up a template, upload the products and you're basically ready to earn money. You may, however, need a developer's helping hand if you are looking for a truly customized solution.
The technical aspects, such as hosting and security, will also not be your problem in either case. Both Shopify and BigCommerce are fully hosted solutions, although you could opt for an external hosting provider with headless Shopify.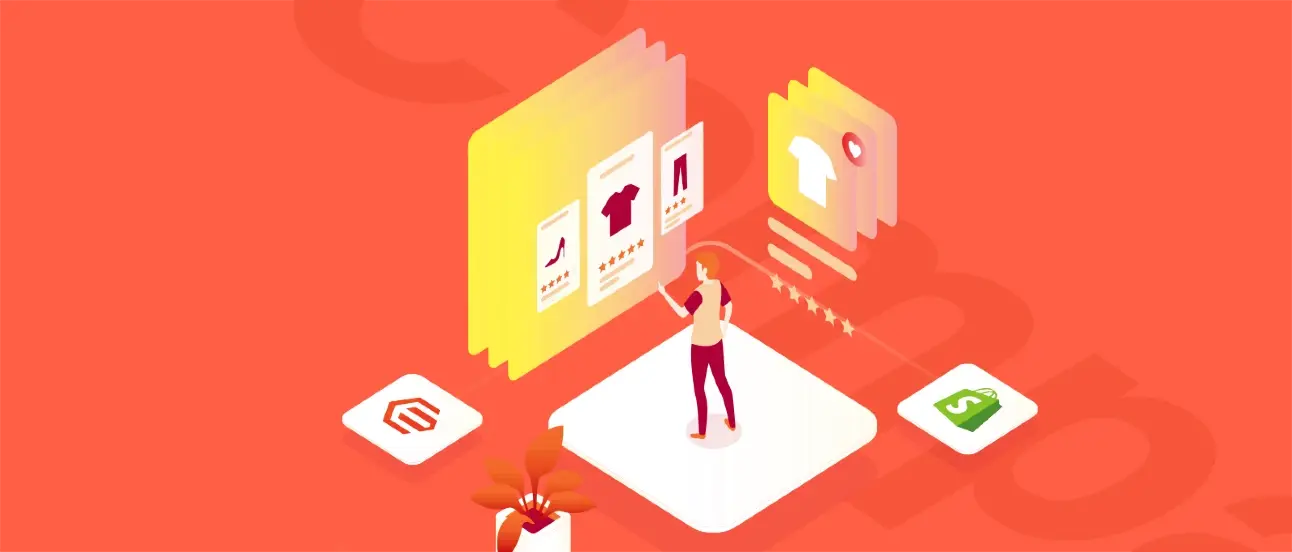 Wish to learn more about Magento vs Shopify?
If yes, that's great. We did our best so you can grasp the topic easily!
You can also book domains via these platforms (with the most popular extensions available). BigCommerce and Shopify also provide you with in-built security measures – namely fraud analysis, PCI-compliance, GDPR-compliance, and SSL certificates.
What's also important, however, is that Shopify and BigCommerce are quite easy to use – the setup is guided, while the CMS, with its left-side menu, is transparent and somehow similar to well-known WordPress. Both platforms have drag-and-drop visual editors, although with Shopify you edit page templates, whereas with BigCommerce you work on individual pages.
Having said that, this time we will dive deeper into fine details, mainly comparing the features supporting the sales process and tools that make using the store convenient.
We don't impose a definitive verdict in each category because there are many things you have to consider and, in each case, we will tell you which solution has – in our opinion – a competitive edge.
In this article, we will touch on the following subjects:
Pricing

Customization & themes

Sales features

Marketing tools

Apps and add-ons

Payments

SEO

Customer support
Let's get started straight away!
Shopify vs BigCommerce: pricing
Both platforms are hosted and come at a package price in several plans.
As for Shopify, you may choose out of three key plans: Shopify Basic (29 dollars/month), Shopify (79 dollars/month) and Advanced Shopify (299 dollars/month), depending on the size of your business, your turnover, and your needs.
You may also make great use of Shopify Plus benefits if your business has a significant size and needs more resources (it starts at 2 thousand dollars monthly).
Since 2022, Shopify also offers a Starter plan at 5 dollars a month, but it doesn't provide you with a fully functional store, so it's only a good idea for very small businesses. It essentially allows you to add the Shopify button (which is an embeddable widget) to an already existing website, such as a blog, a messaging app, or a Facebook page.
BigCommerce has four plans: Standard (29.95 dollars/month), Plus (79.95 dollars/month), Pro (299.95 dollars/month), and Enterprise (the price varies depending on requirements).
As you can see, the core philosophy here is quite similar, and the prices of standard plans are essentially the same. Both platforms also offer free trials.
Of course, when calculating the total price, you should also consider add-ons and extensions, as well as a template, which we will describe in the next couple of paragraphs.
The most popular plans
Let's take a closer look at the most widely used basic plans for Shopify and BigCommerce – specifically, we're talking about Shopify Basic and BigCommerce Standard.
In both cases, they allow for unlimited products, but BigCommerce provides more in-built features, such as:
Reporting

Unlimited staff accounts

Automatic currency conversion

Ratings and reviews
However, the latter at Shopify can be provided with the help of a free app.
While, in the case of BigCommerce you have more out-of-the-box functions, Shopify has two very important advantages.
First, there are no limits concerning the value of sales over which you have to switch to a higher plan – at BigCommerce, it's 50 thousand dollars a year (and with higher plans, those limits also apply: 180 thousand on Plus and 400 thousand on Pro).
Secondly, even on this basic plan in Shopify, you have an abandoned cart recovery feature, which is crucial if you want undecided customers to return to the store. With BigCommerce, you can have that only with a higher plan.
Options for enterprises
If you are running a very sizable and profitable store, you can take advantage of BigCommerce Enterprise or Shopify Plus options.
They contain lots of features that may prove useful for the performance and functioning of such a big store, like:
Guaranteed server uptime

Advanced API support

Dedicated IP address

Top-shelf security features

As well as the possibility to manage multiple stores centrally
Those plans offer much more in terms of account management and support, and they may provide you with some bespoke solutions made specially for your store.
In the case of such advanced plans, the price may vary according to the features included in the solution.
Shopify vs BigCommerce: customization & themes
Themes take the hardships of Shopify website design off your shoulders, but they have to look and feel professional. Both Shopify and BigCommerce offer a vast selection of themes, and some of them are even free of charge.
As of October 2022, at Shopify, we have 89 paid templates (ranging between 200 and 350 dollars) and 9 free ones, while BigCommerce provides the user with 226 paid themes (costing between 150 and 399 dollars, and sometimes you may bump into discounts) and 12 free templates.
As you can see, those figures are comparable except for the number of paid templates, which is significantly higher with BigCommerce. But does it translate into quality? Let's look at the details.
Free templates
In both cases, the selection of free options is quite limited, but for merchants just beginning their journey and on a budget that would be a suitable choice.
But at BigCommerce, these templates have substyles, so in fact every free theme comes in a few variations.
On the other hand, Shopify's free themes differ from each other more significantly, so the shop owner choosing a free template may distinguish themselves more from the competition.
In the case of BigCommerce, the differences between several free themes may even simply come down to various color schemes – let's look at, for example, "Vault Cool" and "Vault Bright", or "Fortune Highlight" and "Fortune Contrast".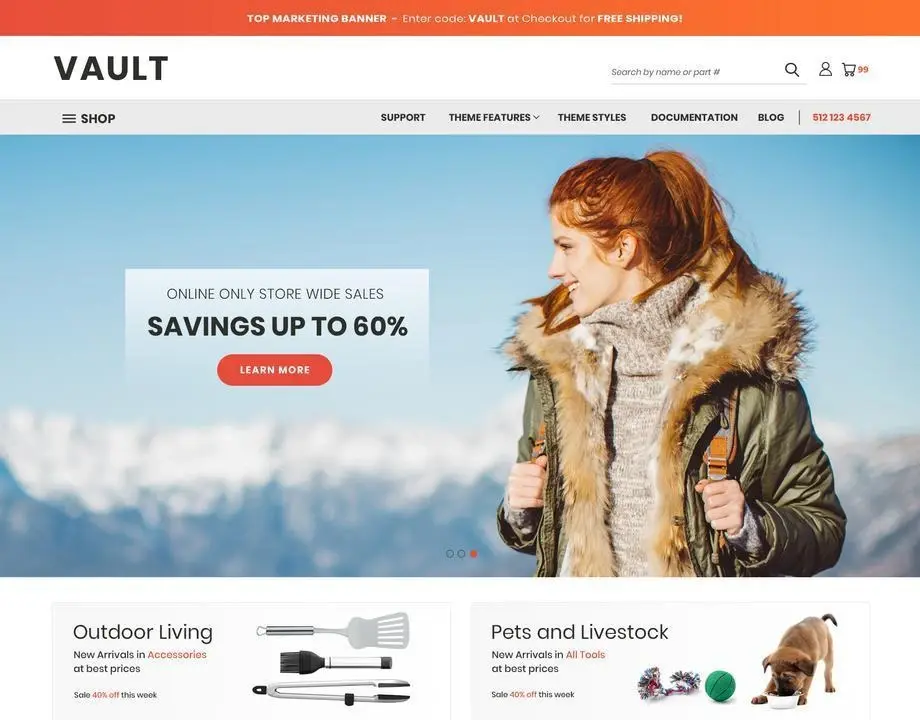 Paid themes
You can also buy a paid-for design, and this is the option we highly recommend if you treat your business seriously – after all, shoppers buy with their eyes and it's just a one-time cost.
As we have said, BigCommerce has a bigger selection here than Shopify, but just as with free styles, many of them are pretty similar to each other, like for example "Hero Bright" and "Hero Clean" or, indeed, many other products with related names.
In this category, Shopify all in all provides better value. Of course, remember that for both ecommerce platforms you also have the possibility to buy external themes – from places like ThemeForest or Template Monster - but customizing them may be trickier. Speaking about that…
Customizing templates
You can extensively customize all the templates provided by Shopify and BigCommerce. There is a CMS with options, and if you have more tech resources or skills, you can make changes directly to the HTML and CSS.
With BigCommerce there is, however, one problem – you cannot easily hide or show certain components of the website.
Both solutions have drag-and-drop editors to help you move around items in your shop. With Shopify, you have access to more content blocks, for example newsletter signups forms or contact forms.
But the core philosophy here is a bit different – Shopify allows you to customize the whole template and then populate changes to pages (but the content itself can be changed using a traditional WYSIWYG editor), while with BigCommerce you edit every page separately and enter the content directly in the builder.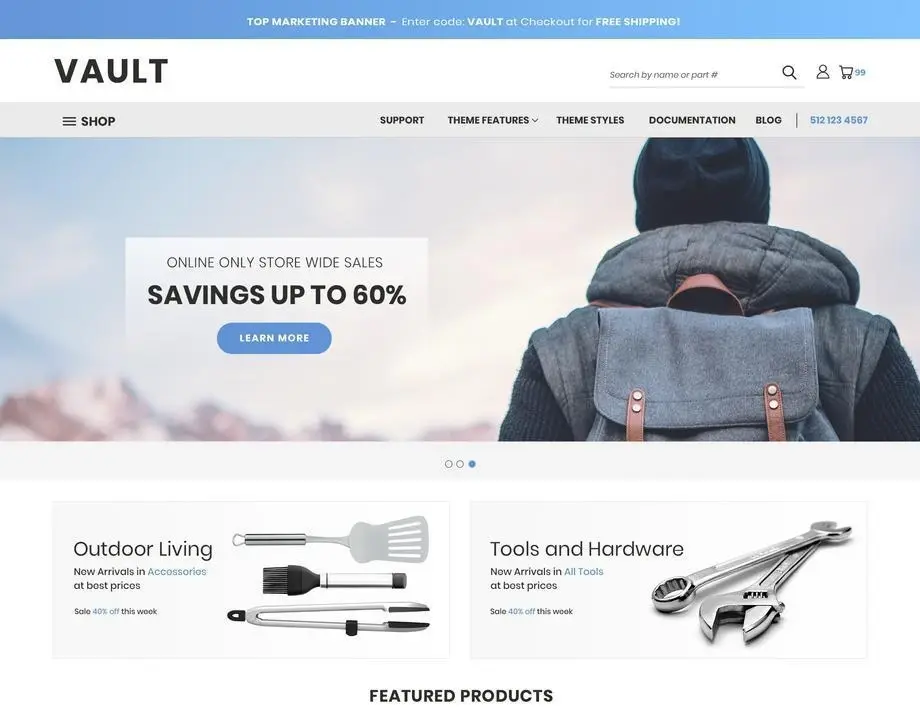 When it comes to the selection of free stock photographs and fonts, the choice at Shopify is much greater. With BigCommerce, the possibilities are limited, and you might need to find those items elsewhere.
Shopify vs BigCommerce: sales features
Numerous sales features are one of the strongest selling points of both platforms – at the end of the day, it's their core function. Let's first summarize the most important aspects and then dive into the details as it comes to those of select importance.
Sales features: a general overview
Below we have shown the crucial functionalities of Shopify vs BigCommerce in chosen areas.
| Area | Shopify | BigCommerce |
| --- | --- | --- |
| Products | Unlimited products Importing products via CSV Inventory management | Unlimited products Importing products via CSV and XML Inventory management Bulk pricing |
| Order | Manual order creation Social media integration Abandoned cart recovery Multi-channel selling | Manual order creation Text fields and file uploads for custom products Abandoned cart recovery Persistent carts |
| Payment | Discount codes and gift cards Customizable checkout Digital wallets Purchase orders Multi-currency | Discount codes and gift cards Customizable checkout Digital wallets Purchase orders Multi-currency |
| Shipment | Adjustable shipping rates and taxes Dropshipping Shopify Shipping for chosen countries and partners | Adjustable shipping rates and taxes Dropshipping Cross-border fulfillment Third-party real-time shipping rates |
| Content | Multiple languages SEO-ready structure | Multiple languages SEO-ready structure |
| Other | Daily backups Reporting (customers, marketing, finance, search data, abandoned carts) | Segmenting customers Reporting (customers, marketing, finance, search data, abandoned carts) |
As you can see, both Shopify and BigCommerce have much to offer, and you can complement this offer with apps and add-ons. But how convenient are those features to use? Let's look at some of the most basic ones.
Managing products: categories and product options
With both Shopify and BigCommerce, you can categorize products manually, but Shopify offers you a function called "automated collections" that, in a smart way, populates your store with products based on the criteria you apply (like product title, tags, price etc.).
It is useful when it comes to big shops with numerous products, but of course then you must remember that the naming patterns should be consistent.
When it comes to product options, you can also see the differences here – with Shopify, you are limited to just three sets of product options (like color, size, or material). If you have products with more than three versions, you have to present them separately.
This is, however, just a basic setup, because you can buy or develop a Shopify app that lets you increase the number of options.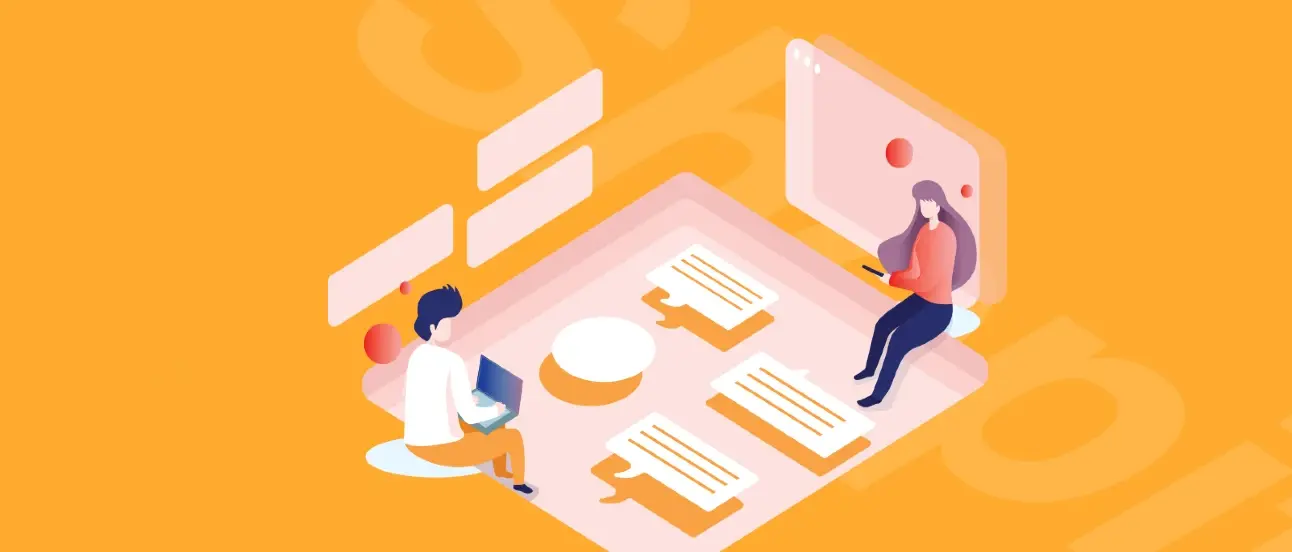 Wish to learn more about Shopify apps?
If yes, that's great. We did our best so you can grasp the topic easily!
In BigCommerce, you can add up to 250 options, which is usually enough for all types of products. There is also a difference concerning product variants. Shopify allows for 100, while BigCommerce supports 600, which should be enough in most cases. This is worth considering when working with numerous products containing many variants.
Abandoned cart recovery
This functionality lets you significantly increase revenue, and thus it's very important – it allows you to automatically email potential shoppers who haven't finished making the purchase. The message can contain a discount code urging the customer to complete the order.
In the case of Shopify, one email is sent (in one of the pre-defined time intervals), while BigCommerce sends up to three. The abandoned cart saver is available on all Shopify plans, even the Starter, where as with BigCommerce, however, it is only possible to get this with higher plans.
BigCommerce also offers an in-built function called persistent cart, which allows users to keep a cart on different devices and continue shopping, but you can easily get it in Shopify via an app as well.
International selling
Both platforms enable users to choose their own currency, but the approach is slightly different. Shopify has a special function called Shopify Markets, which allows you to:
Define selling areas

Manage currencies

Languages

Local domains

And payment processors
The currency is being chosen automatically, but of course the shopper can change it.
It is all neatly organized and you can do all the management from one place. This function also lets you see where the sales are coming from and adjust marketing activities accordingly.
In BigCommerce, you have a possibility to add many currencies and easily adjust the conversion rates manually, but don't have a special tool to manage international sales, except for the most expensive enterprise plan.
With Shopify Markets, you can also sell in multiple languages, while BigCommerce only lets you do the with the use of an external app.
Shopify vs BigCommerce: marketing tools
Many marketing extras, as in the case of sales, are available via apps and add-ons, but there are also interesting in-built ones.
Shopify, for example, offers discount codes and gift cards, as well as advertising directly on other platforms, while BigCommerce offers one-click Google Shopping integration, as well as discount codes.
Shopify has an edge because you can manage all the customer relationships and marketing activities from the dashboard level. Both platforms also provide email marketing tools and blogging options – and we will take a closer look at those.
Email marketing
Email is still the most popular way for stores to talk directly to their customers. At Shopify, the conversion rate is as much as 4.29%.
4.29%
is the average conversion rate
for Shopify email campaigns
---
However, looking at Shopify vs BigCommerce, the philosophy is quite different.
BigCommerce allows you to integrate your data with well-known advanced email marketing platforms, such as MailChimp.
Shopify, on the other hand, has some in-built tools designed to run email marketing activities, namely Shopify Email. You can use ready templates and send 10 thousand emails monthly (later paying 1 dollar for every additional thousand). There are also some automation possibilities, such as welcome emails, first purchase upsells, customer winbacks, and others.
Blogging options
A good blog is an addition to the store's offer and helps dive more deeply into the products' advantages. It also drives traffic to the store from the outside.
At both BigCommerce and Shopify, you can easily create a simple blog, and even import posts from a previous blog. However, you have no blog categories – only tags.
Shopify also offers RSS feeds, which are not provided by BigCommerce.
Anyway, if you need more advanced blogging functionality, you can integrate an external solution with your store – which may be helpful if a blog is the main source of your traffic.
Shopify vs BigCommerce: apps and add-ons
If you, as a merchant, want to extend the in-built functionality of the store, you can do it with apps and add-ons.
Both platforms give you access to their online app stores where you can buy extensions allowing you to add functions, marketing, and sales tools, or boost any other aspect of the store's functioning.
As of October 2022, the Shopify app store contains over 7.7 thousand apps (used by 87% of merchants), while the BigCommerce app store only has over a thousand, so it seems that Shopify has a wider choice in this department.
87%
of Shopify merchants
use external apps and add-ons
---
While planning a budget for your store, you should take into account the additional costs connected with apps and add-ons (at least those you can predict in advance), because the prices of apps may vary from a few dollars to even two thousand a month.
Shopify vs BigCommerce: payments
Both platforms offer multiple payment gateways to choose from. With Shopify, it's more than 100, while BigCommerce supports 48, so Shopify offers a wider selection here. These include the most popular ones, like PayPal or Stripe.
What about the transaction fees? With BigCommerce, on all the plans, there are no transaction fees.
You can have the same with Shopify Payments, which is available on all the plans except the Starter. If you decide or cannot use them, you will be charged from 0.5% to 2% according to the chosen plan (5% on the Starter). Remember though, that Shopify Payments is only available in 17 countries.
For both BigCommerce and Shopify there may be, however, credit card fees based on the rates of a chosen provider, but these fees can be reduced while you use recommended payment processors on the platform (for BigCommerce it's PayPal, and for Shopify it's Shopify Payments).
Shopify vs BigCommerce: SEO
Both platforms contain basic SEO features, such as the ability to easily add descriptions and other meta tags to the products and categories.
Shopify automatically prompts you to create page redirects, but BigCommerce also allows for that – this is important in big shops with many products where numerous URLs may change.
As we have said in the beginning of the article, both platforms also offer you a free SSL certificate, which is vital for Google.
BigCommerce has an edge when it comes to creating Google-friendly URLs, because no prefixes are added, as it is in the case of Shopify.
All in all, you can optimize your store easily with both platforms, maybe with some help from add-ons.
Shopify vs BigCommerce: customer support
Multi-channel and reliable customer support is usually a part of bundled solutions such as Shopify and BigCommerce.
Both platforms also roughly offer similar ways of communication:
| Area | Shopify | BigCommerce |
| --- | --- | --- |
| Phone support | yes | yes |
| Live chat | yes | yes |
| E-mail support | yes | yes |
| Social media support | yes | no |
| Community forum | yes | yes |
| Knowledge base | yes | yes |
| Video tutorials | no | yes |
With BigCommerce, before you can access the support team, you are encouraged to follow the general suggested solutions first, but you can of course skip this option. Shopify also tells its users that checking the ready answers is the solution they should use in the first place, before talking to a human.
If you are using Shopify's phone support, you are not connecting directly, but being called back by an employee.
An important difference between support on both platforms is the fact that help at BigCommerce is provided just in 7 languages, whereas Shopify supports 21. Both, of course, include English.
The wrap-up
Both Shopify and BigCommerce have most of the functions that an ecommerce one-stop shop should offer, but in many cases their approach to things is different. You should make a decision based on the careful consideration of your needs.
Shopify has more in-built proprietary solutions like Shopify Markets, Shopify Payments, Shopify Shipping and Shopify Email. All of these allow you to manage all your important activities on board and Shopify is gradually building an ecosystem of such tools – that's a kind of a wider approach and platform-specific philosophy.
BigCommerce usually uses either a simple solution or an external partner in these areas, but on the other hand it also offers many interesting in-built features.
The platforms may impose some limitations on merchants, but usually those can be solved by third-party tools, except for the money-related issues, such as the sales limits in BigCommerce or the transaction fees in Shopify.
When deciding between the two, you should take a look at fine details of the things that interest you the most and – most importantly – possibly choose the solution you feel most comfortable using after the trial period.
At Naturaily, we can advise you in this regard and help you budget your project, taking all the cost and your needs into account. Contact us to discuss the details!
Let's talk about e-commerce!
Contact us and we'll warmly introduce you to the vast world of headless e-commerce!
GET AN ESTIMATE