Main Benefits of Headless Commerce for Your Business
Main Benefits of Headless Commerce for Your Business
Why are online stores switching to headless commerce? Well, the benefits are numerous, with better conversion rates, higher sales numbers and greater performance as the primary ones. How is it possible? Read on to acquaint yourself with headless because now is the time!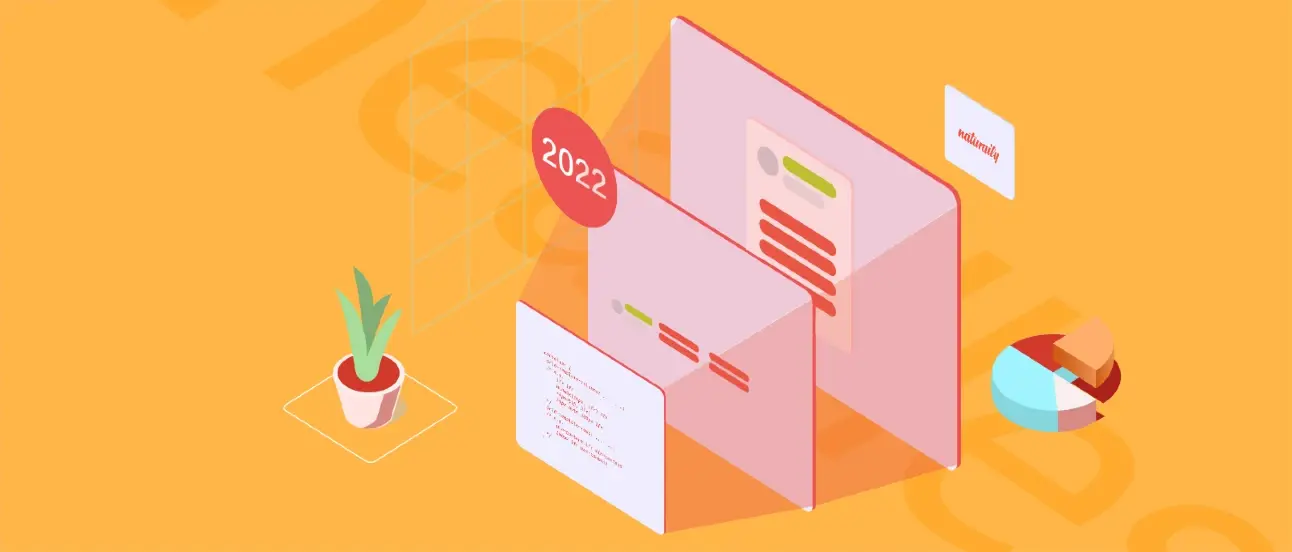 ​​Why are online stores switching to headless commerce? This approach is getting increasingly popular because of its flexibility and almost endless possibilities to design customer experience. It also changes the way online stores work under the hood.
From better scaling opportunities and enhanced developers' experience through fresh ways of uplifting the customer interaction to a unique approach to page loading thanks to headless commerce architecture. All of these areas are important to take a look at when considering the reasons of a headless model's boost.
Before diving into the specifics of headless commerce, which is being included in any e-commerce strategy more often these days, let us give you a bit of context.
Okay, are you ready? Let's go!
​​The State of Headless eCommerce
Below you will find some numbers that may be helpful if you consider investing in headless commerce in the following months.
While many industries took a significant hit – like one from Mike Tyson – due to the pandemic situation in the world, the e-commerce industry keeps growing even faster than ever before. Some numbers support this statement – Insider Intelligence forecasts that retail e-commerce sales will grow 13.7% in the US alone in 2021, reaching more than $900 billion/year.
The growing interest in headless e-commerce is reflected in the funding that headless commerce platforms get from investors. Headless solutions raised over $1.6 billion in funding in the last two years. Among these non-traditional platforms are Saleor, Fabric, Commercetools, Commerce Layer, and Spryker. These numbers are proof that online stores see the potential lying in almost any single e-commerce platform, and investors with serious money do the same.
There are also some reports about the adoption of headless commerce among enterprise organizations. One of these reports is based on research conducted by Vanson Bourne at the beginning of 2021. They interviewed 400 employees with headless architecture knowledge and here is what they found out:
64% of respondents said that their organization is already using a headless architecture. This is a 25% increase from 2019.

92% of respondents admit that headless technologies make it easier to deliver a consistent content approach.

92% of respondents know the importance of digital experiences and their impact on an organization's success.
After looking at these numbers, it's clear that headless commerce is not just a trend anymore but rather an obvious choice for many online merchants looking to win and maintain their position in the crowded e-commerce marketplace.
The thing is, the e-commerce competition is getting bigger and bigger, and it never sleeps. Online stores are always looking for new solutions that will give them a competitive advantage over other e-commerce platforms, and one of them is headless commerce.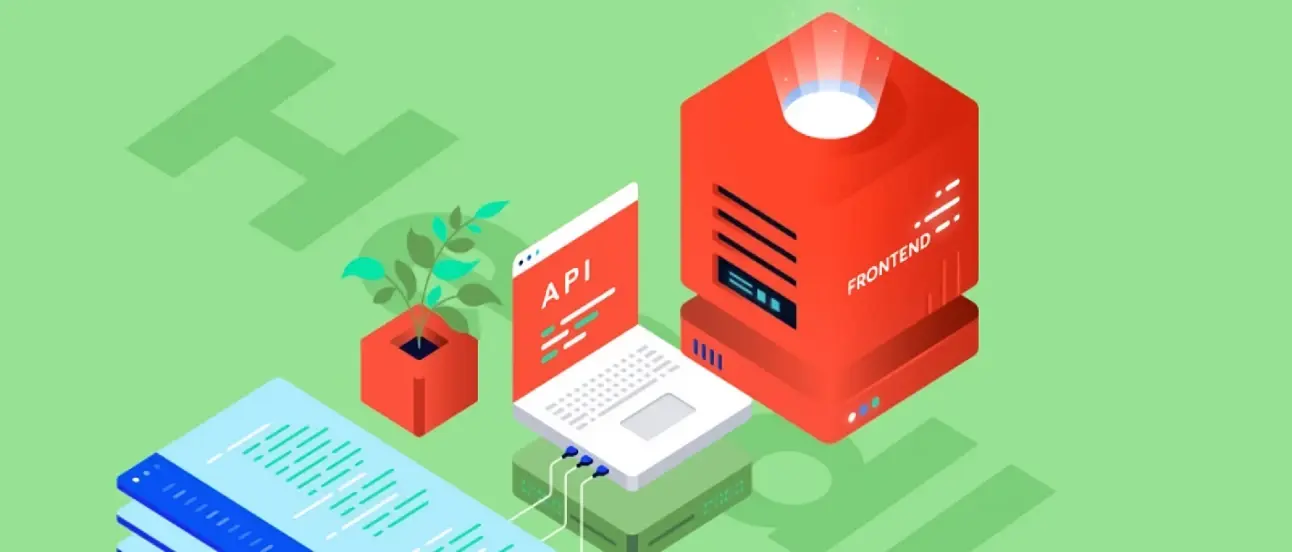 Benefits of Headless Commerce
From better scaling opportunities and enhanced developers' experience through fresh ways of uplifting the customer interaction to a unique approach to page loading thanks to headless commerce architecture. All of these areas are important to take a look at when considering the reasons of a headless model's boost.
There are many reasons why online merchants are taking advantage of headless commerce, and these are the same reasons you should consider the same.
Among these reasons are:
Unlimited possibilities of designing customer experiences

Better conversion rates and higher sales numbers

High speed and performance

SEO effectiveness

Enhanced marketing opportunities

Easy content management

Exceptional developer experience

Total control over site architecture

Reliability and scalability

Omnichannel selling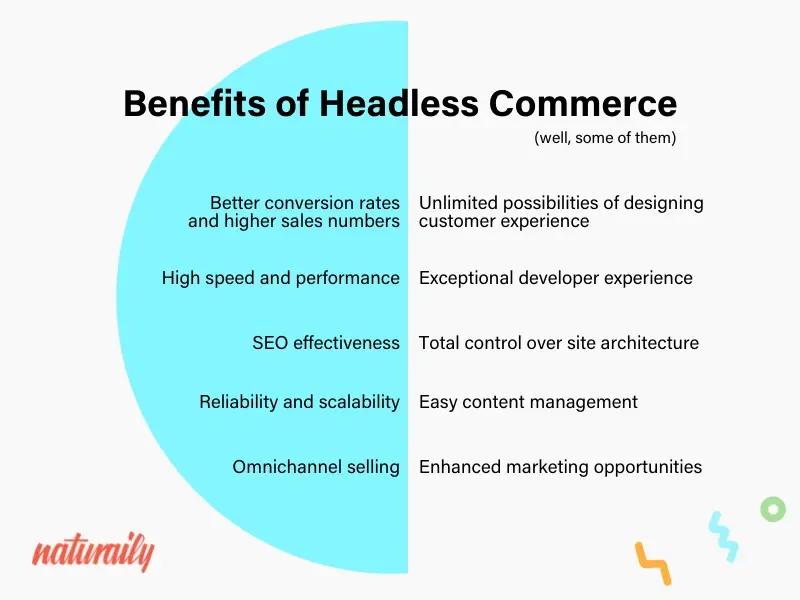 ​​Unlimited Possibilities of Designing Customer Experience
As the front-end layer is separated from the back-end, you are not limited in any way – on the contrary to traditional eCommerce platforms. On top of that, you can use your favorite tech stack to design customer experiences. So, in other words, your only limitation would be imagination, not technology, theme, or template.
You can design custom:
Landing pages

Product pages

Category pages

Checkout pages

Cart pages
Not to mention basic pages like homepage, about page, etc.
You can also use A/B testing to check which version of a particular page brings better results. Mix it with customer feedback or analytics, and you will be making good progress to higher conversions and more sales.
Better Conversion Rates and Higher Sales Numbers
As you can design the front-end the way you want and the way customers want, it leads to a better customer experience and better conversion rates. Even if the number of visitors won't change, higher conversion means higher sales numbers.
Another thing that impacts conversion and sales is performance, as it's an important part of customer experience. For example, customers expect any website to load in a blink of an eye, but it's actually enough if a website loads within the first three seconds. However, the bounce rate (quitting before a website fully loads) increases by 32% if it doesn't.
High Speed and Performance
Headless commerce is a modern approach to eCommerce development that ensures high scalability and performance. Such an approach uses a CDN (Content Delivery Network) that delivers content to the customer from the nearest server, which shortens loading time.
However, the CDN isn't the only reason why headless eCommerce sites are performant and quick-loading. It is also because such sites are static – they use pre-built files instead of building files every single time.
Another reason for high performance is that the front-end tools used to build the presentation layer of a headless commerce platform are fast by default. This is because of built-in features that automate things like code-splitting, image optimization and lazy loading, to name a few.
Since the introduction of Core Web Vitals, speed and performance are some of the most important Google ranking factors, so headless commerce sites have a better chance of ranking higher than traditional ones.
Diverse Integration Possibilities
The headless commerce approach also allows for connecting online stores with different tools that are laser-focused on one aspect of online store functioning through API (Application Programming Interface). Therefore, you can choose one tool for payments, another one for the live search function, and so on.
​​SEO Effectiveness
Google gives higher positions in search results to fast, performant, easy to scan, and secure websites – and that's how we can describe sites created with use of a headless commerce solution. We will also mention Core Web Vitals one more time, as it's of much importance to take care of them.
You can check how your current commerce platform is performing by visiting this website and entering the URL of your online eCommerce store. The most important metrics are LCS (Largest Contentful Paint), FID (First Input Delay), and CLS (Cumulative Layout Shift).
LCS – this metric measures loading performance. In other words – how long it takes before the largest element visible on a website fully loads.

FID – this metric measures interactivity. In other words, how long it takes for a browser to react to the first user's interaction.

CLS – this metric measures visual stability. In other words, how many shifts of all layout elements not related to the user's actions occur.
Enhanced Marketing Opportunities
Marketers love the headless commerce solution as it positively impacts SEO and consequently, marketing KPIs (Key Performance Indicators). In other words, marketers can achieve better results in areas they are accountable for.
Also, it's possible for marketers to manage content or add/edit landing pages without the developer's help. However, it should be noted that:
Not every headless ecommerce platform allow for that

Before it will be possible, it requires proper coding
Easy Content Management
If it has been set up properly, the admin panel of a headless ecommerce platform allows non-technical people within a company to manage sites' contents on their own.
Members of marketing teams can edit content, manage products and even build pages visually, all without touching code or reaching out for support from the company's front-end developers or third-party development team. Thus, it boosts the whole content management process and doesn't involve the technician to make small changes.
You can also choose one of many headless commerce examples of content management systems in addition to the eCommerce platform. For example, a headless commerce platform from Storyblok enables you to use a real-time visual content editor thanks to its blocks-based structure.
Almost any Customer Experience
Setting up a headless commerce system means almost total flexibility and design freedom as the presentation layer isn't strictly connected to the database responsible for the processes like receiving payments. Because of that, you can create customer experiences just the way you want.
​​Exceptional Developer Experience
As developers responsible for creating headless commerce sites are not dependent on a particular technology or architecture they need to work with, they can choose the tools and frameworks that they know best. Because of this, they enjoy the development process more, work faster, and the results are of a higher quality.
Additionally, from the employer branding point of view, headless commerce solutions enable developers to progress their careers in areas that will be of high importance in the near future. They gain skills in creating and adapting headless commerce architecture, learn new languages to apply any headless solution better, use headless commerce-related frameworks to deliver unique user interfaces, and more.
If you run a software house or simply enjoy giving other people opportunities to grow, heading towards a headless commerce system may be the thing to consider.
Total Control over Site Architecture
Some companies are modyfying their business model with the transition to headless commerce in mind but want to keep using either a carefully-crafted front-end layer or a favorite content management system.
Thanks to headless commerce, it's possible – for example, you can turn your WooCommerce store into a headless one. In such a situation, you will still use WooCommerce in the back-end, but the presentation (front-end) layer will be separated and custom-designed to meet your higher expectations.
When we talk about headless commerce architecture, it is also worth mentioning that costs of maintaining the database should be significantly lower. Headless system doesn't force you to overspend your budget on data storage – all thanks to aforementioned CDN, as well as to the static site generator (SSG).
The latter is another unique headless commerce functionality that makes your website load quicker. How does that work? Simply put, in the monolithic system, servers return the page view after every request (e.g. visiting the website). Static site generators, however, do it in advance, and this is why the emphasis is placed more on build time instead of request time.
These specifics of headless commerce architecture are to not be overlooked, no matter whether you decide to use Jekyll, Gatsby, Hugo, Hexo, or Pelican – to name the most popular static site generators.
Reliability and Scalability
As front-end and back-end layers are separated, the probability of breaking down the entire store while making changes to one layer or the other is reduced to the minimum. Thanks to this, you can make changes without worrying about breaking something down or without turning the entire commerce platform off for a while.
Another benefit of headless commerce is that it adapts to unexpected traffic peaks, so it will keep working instead of turning off because of an exceeded limit. As a matter of fact, a headless solution has been created to handle big data better than a monolithic commerce platform does, and this is undeniably crucial when we consider the ongoing transformation of the whole Internet into Web 3.0 era.
Omnichannel Selling
Headless commerce helps you make your online commerce platform accessible via different selling channels and devices. Therefore, people can purchase your products through smartphones, smartwatches, laptops, or tablets, and they will still have a great customer experience. Also, thanks to this great accessibility of headless storefronts, enabling additional distribution channels is much cheaper and faster.
Headless commerce differs from traditional commerce due to the possibility of creating content that's adjusted and personalized according to the customer's activity history or localization. Different content can be displayed depending on a country or region and it can be changed much faster than in the case of a traditional approach to eCommerce.
The headless approach is also focused on providing a great mobile experience for customers. It's important because the number of mobile sales is growing constantly and that's why it's critical to take care of possible performance issues before they discourage potential customers.
Easier e-commerce localization
Headless commerce differs from traditional commerce due to the possibility of creating content that's adjusted and personalized according to the customer's activity history or localization. Different content can be displayed depending on a country or region and it can be changed much faster than in the case of a traditional approach to eCommerce.
Headless Commerce – a Solution Already Known. What's next?
If you are ready to take everything one step further and transition to a headless commerce platform, you can consult your specific case with an e-commerce development company. Just like ours!
Click on the button below, fill out a simple form, and we will contact you as soon as possible to discuss further steps!
Let's talk about e-commerce!
Contact us and we'll warmly introduce you to the vast world of headless e-commerce!
GET AN ESTIMATE